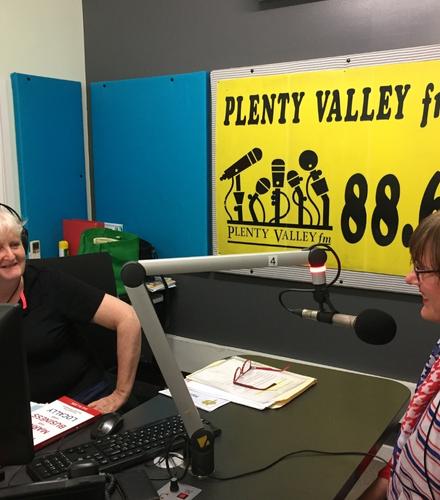 Audio Shows With Sue Ellson
With Sue Ellson - Independent LinkedIn Specialist Author, Educator, Practitioner, Consultant
I have been a guest speaker on a variety of audio shows, podcasts and radio programs from around the world.
You may also like to see a list of my  Radio Appearances, Presentations, Training, Videos and audio recordings of my poems on the Poems Podcast page. Presentations, Training and Videos.
I welcome enquiries from podcast, audio show and radio producers and hosts for future interviews.
For copyright reasons, I cannot republish broadcasts here, but I am happy to let you listen to a recording if I have one.
You are invited to contact me directly with your request.
Audio Shows Appearances with Sue Ellson
04 Feb 2022

Audio Update
University of Western Australia Business School
Sue Ellson interviewed by Jane on behalf of Dr Jacquie Hutchinson's 'Recruiting for Diversity and Inclusion – Attracting and Sourcing Candidates' course and spoke about the candidate experience and social media and recruitment
https://www.coursera.org/lecture/attracting-and-sourcing-diverse-cadidates/listen-recruitment-and-social-media-with-sue-ellson-part-2-vUUXE
00:29:05
04 Feb 2019

Audio Growth Hacking Show
Conversation about Newcomers Network
https://meetsiddique.com/conversations/newcomersnetwork
https://www.youtube.com/watch?v=2XwqykEZw2s
Muhammad Siddique in Atlanta, USA interviewed Sue Ellson
00:17:48
16 Aug 2016

Audio Show
Business Essentials
Marketing Your Business Hyper Locally
https://www.businessessentials.com.au/Business-Essentials(BE)/201609
Sue Ellson interviewed by Heather Dawson, Business Essentials Studio, 106/12 Cato Street, Hawthorn East, Melbourne, Victoria, Australia
00:10:31
28 Jan 2016
Audio Show
Business Essentials
Business Essentials of LinkedIn
https://audioboom.com/posts/4096249-special-edition-business-essentials-of-linkedin
Heather Dawson interviewed Alex Pirouz with snippet from Sue Ellson
00:18:57
01 Feb 2015

Audio Show
Business Essentials
Getting Maximum Value from LinkedIn
https://www.businessessentials.com.au/Business-Essentials(BE)/201502/T5
Sue Ellson interviewed by Heather Dawson
00:09:13
01 Feb 2015
Audio Show
Chartered Accountants Business in Focus
Getting Maximum Value from LinkedIn
https://www.cacpd.com.au/Chartered-Accountants-Business-in-Focus(BIF)/201502
Sue Ellson interviewed by Heather Dawson
00:09:13
26 Jun 2013

Online Blog Talk Radio
Living, Working and Networking in Australia
https://www.blogtalkradio.com/newcomersnetwork/2013/06/26/living-working-and-networking-in-australia
Sue Ellson Online Radio Show, USA
00:29:07 (available on request)
06 Jun 2007

Student Radio
RMIT University
Australian Citizenship and English Language Test
Radio Interview
Sue Ellson interviewed by Aidan Watt-Fawkes Radio Journalism Student
Short Interview
14 Mar 2006
Audio News Release
Department of Immigration and Multicultural Affairs
Living in Harmony in Regional Victoria
Two Audio News Releases for Harmony Day
Sue Ellson interviewed by Daniel Wilson
Short Interview
24 Feb 2006
Online Radio
Expats Radio Internet Radio Station, United Kingdom
Expats in Australia
Radio Interview
Sue Ellson interviewed by Peter Richards
Short Interview