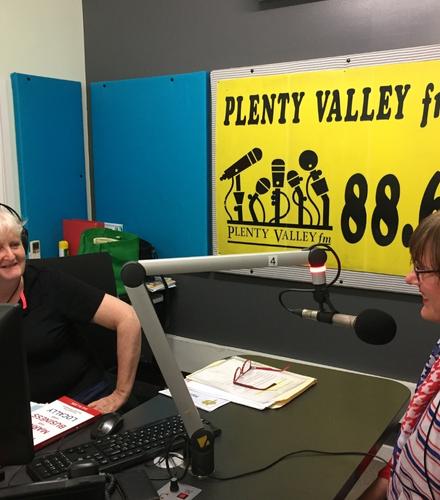 Radio Program Appearances with Sue Ellson
With Sue Ellson - Independent LinkedIn Specialist Author, Educator, Practitioner, Consultant
I have been a guest speaker on a variety of radio programs from around the world.
You may also like to see a list of Podcast Appearances, Presentations, Training, Videos and audio recordings of my poems on the Poems Podcast page.
I welcome enquiries from podcast, audio show and radio producers and hosts for future interviews.
For copyright reasons, I cannot republish broadcasts here, but I am happy to let you listen to a recording if I have one.
You are invited to contact me directly with your request.
Radio Program Appearances
7 November 2023
Most Stressful Jobs – 11
https://sueellson.com/blog/most-stressful-jobs-on-3aw-693-am-radio-melbourne-with-tom-elliott
Tom Elliott interviewed Sue Ellson
00:04:12
17 October 2023
Pessimistic View Young People Have About Their Financial Prospects – 10
https://www.3aw.com.au/the-pessimistic-view-more-than-half-of-young-people-have-about-their-financial-prospects
https://sueellson.com/blog/pessimistic-view-young-people-have-about-their-financial-prospects-on-3aw-693-am-radio-melbourne-with-tom-elliott
Tom Elliott interviewed Sue Ellson
00:07:14
2 October 2023
VCE Exams on 3AW 693 Radio Melbourne – 9
https://sueellson.com/blog/vce-exams-on-3aw-693-am-radio-melbourne-with-jimmy-bartel
Jimmy Bartel interviewed Sue Ellson
00:12:13
25 September 2023
3AW 693 Radio Melbourne – 8
Unretiring
https://sueellson.com/blog/unretiring-on-3aw-693-am-radio-melbourne-with-jacqui-felgate
Jacqui Felgate interviewed Sue Ellson
00:06:37
15 September 2023
3AW 693 Radio Melbourne – 7
Changing Careers
https://sueellson.com/blog/changing-careers-on-3aw-693-am-radio-melbourne-with-jimmy-bartel
Jimmy Bartel interviewed Sue Ellson
00:08:51
25 August 2023
RNZ National Radio New Zealand
Right to Disconnect
https://sueellson.com/blog/right-to-disconnect-on-rnz-national-radio-new-zealand
The Panel with Wallace Chapman, Sally Wenley, Andie McCombs and Sue Ellson
00:09:58
23 August 2023
Newstalk ZB Radio New Zealand
Right to Disconnect
https://sueellson.com/blog/right-to-disconnect-on-newstalk-zb-radio-new-zealand
Heather du Plessis-Allan interviewed Sue Ellson
00:03:13
9 May 2023
3AW 693 Radio Melbourne – 6
Gender Inclusive Workplaces
https://sueellson.com/blog/gender-inclusive-workplaces-on-3aw-693-am-radio-melbourne
Dee Dee Dunleavy interviewed Sue Ellson
00:05:18
2 March 2023
774AM ABC Radio Melbourne
When moving to the country doesn't quite work out
Sue Ellson invited to answer questions by Producer Amber Tripp, hosts Richelle Hunt and Daniel Miles
Approximately 11:52am on recording at 00:47:43
https://www.abc.net.au/melbourne/programs/theconversationhour/the-conversation-hour/102022608
Shared on Facebook LinkedIn Profile LinkedIn Page Google Twitter
6 January 2023
3AW 693 Radio Melbourne – 5
Victorian Police Recruitment Strategies
https://sueellson.com/blog/victorian-police-recruitment-strategies-on-3aw-693am-melbourne
Heidi Murphy interviewed Sue Ellson
00:06:53
29 December 2022
ABC Radio National
Is embellishing your resume ever okay?
https://www.abc.net.au/radionational/programs/breakfast/is-embellishing-your-resume-ever-okay-/101813170
Sarah Dingle interviewed Sue Ellson
Shared on LinkedIn Profile, LinkedIn Page, Facebook, Google, Twitter
00:09:19
02 Nov 2021
Neil Mitchell Show
3AW 693 Radio Melbourne – 4
The Body Shop introduces radical new Christmas hiring approach
https://www.3aw.com.au/the-body-shop-introduces-radical-new-christmas-hiring-approach
Sue Ellson interviewed by Tony Jones
00:05:45
17 Mar 2021
Fifi, Fev and Nick – 101.9 FoxFM Southern Cross Austereo
"What are your weaknesses?" in a job interview
https://www.hit.com.au/shows/fifi-fev-and-nick/catch-up/386f52c3-52f2-49f2-893c-acee001de5dd
Sue Ellson quoted by Fifi Box on the topic from 00:15:54
00:19:07
18 Mar 2020
Afternoons with Deborah Knight 2GB Sydney and 4BC Brisbane Radio
Job Sharing and Other Work Options if you have just lost your job
https://www.2gb.com/podcast/afternoons-with-deborah-knight-full-show-march-18
https://www.listennotes.com/podcasts/afternoons-with/career-development-expert-oFEpQ47WBsb/
Sue Ellson was interviewed on the phone by Deborah Knight on job swapping, changing careers, how to cope if you have lost your job, how to manage with a lower income etc. You can listen to the introduction from 01:23:13 and Sue starts talking at 01:24:48 through to 01:31:22
00:08:09
7 Jan 2020
Inner FM 96.5 Heidelberg, Melbourne
Rotary in Action with Sue Ellson
Sue Ellson interviewed by Jill Weeks from Rotary in Action
00:38:49
25 Dec 2019
3AW 693 Radio Melbourne – 3
Newcomers Network 14th Annual Christmas Day Bring Your Own Picnic Lunch
Approximately 1:15pm in the afternoon on options for Christmas Day and the 14th Annual Christmas Day BYO Picnic Lunch
Sue Ellson interviewed by Justin Smith
Short Interview
19 Nov 2019
Plenty Valley FM 88.6 Mill Park, Melbourne
Arts a Plenty with Author Sue Ellson
Sue Ellson interviewed by Denise Kuchmar from Arts a Plenty
3:20pm Short Interview
30 Oct 2019
ABC Newcastle Radio 1233AM
Moving around the world – Expatriates and Repatriates
https://www.abc.net.au/radio/newcastle/programs/drive/drive/11633808
Approximately 15:15pm in the afternoon. Recording from 00:16:40 – 00:24:55 Sue Ellson was interviewed over the phone by Paul Turton on living and working overseas as a result of the Australia Talks National Survey and Annabel Crabb's article Australia Talks National Survey reveals the country we most want to move to
Sue Ellson interviewed by Paul Turton
00:08:15
14 Jun 2019
Taking Care of Business Show on RPP FM Peninsula Radio 98.7FM
LinkedIn and Gigsters Book
https://anchor.fm/jacki-mitchell/episodes/Why-Conferences-are-the-new-black-in-business-e4bgmc
Radio Interview on 00:31:38 – 00:42:48 Sue Ellson interviewed by Jacki Mitchell and other guests Steve Sammartino, Michael Licenblat and Sharon Kneale
00:11:10
05 Oct 2018
Jacki Mitchell on Taking Care Of Business on RPP FM Peninsula Radio 98.7FM
LinkedIn Updates
https://web.archive.org/web/20221229061719/https://rppfm.com.au/2018/10/05-october-2018-host-jacki-mitchell-embrace-the-digital-chase-and-linkedin-updates/
Sue Ellson interviewed by Jacki Mitchell
00:22:51
23 Jun 2017
Taking Care Of Business on RPP FM Peninsula Radio 98.7FM
Link Up with LinkedIn
https://web.archive.org/web/20230307075158/https://rppfm.com.au/2017/06/tcob-23-jun-2017-host-jacki-mitchell-link-up-with-linkedin/
Radio Interview with Jacki Mitchell with Alex Pirouz and Bonnie Power
00:47:51
23 Jun 2017
Taking Care Of Business on RPP FM Peninsula Radio 98.7FM
Link Up with LinkedIn
https://sueellson.com/blog/link-up-with-linkedin-for-rpp-fm-peninsula-radio/
Radio Interview with Jacki Mitchell with Alex Pirouz and Bonnie Power
00:47:51
22 Jan 2016
Jon Faine with Euan Mitchell Conversation Hour on ABC Melbourne Radio 774AM
Self Publishing
https://soundcloud.com/abc-melbourne/the-conversation-hour-with-jon-faine-friday-22-january-2016
Sue Ellson added insight via telephone
00:53:06
03 Sep 2015
Life Matters on ABC Radio National 621AM, Sydney, New South Wales, Australia
IT Incompetence in the Workplace
https://www.abc.net.au/radionational/programs/lifematters/it-incompetence-in-the-workplace/6745726
Sue Ellson interviewed by Natasha Mitchell on Life Matters
00:18:27
24 Dec 2014
3AW 693 Radio Melbourne – 2
Christmas Day Picnic Lunch in Melbourne
Details on request
Sue Ellson interviewed by Darren James
00:05:50
25 Dec 2013
6PR 882AM, Level 1, 169 Hay Street, East Perth Western Australia 6004
Christmas Day Picnic Lunches across Australia
Details on request
Sue Ellson interviewed by Rod Tiley
25 Dec 2013
Talkback 4BC 1116AM, 77 Southgate Avenue Cannon Hill Queensland Australia 4170
Christmas Day Picnic Lunches across Australia
Details on request
Sue Ellson interviewed by Kim Mothershaw
25 Dec 2013
Italian Program SBS Radio 2 Melbourne 93.1FM 1224AM Level 2, Alfred Deakin Building, Federation Square, Melbourne Victoria Australia 3000
Christmas Day Picnic Lunches across Australia
Details on request
Sue Ellson interviewed by Enza Capobianco
24 Dec 2013
2SER 107.3FM 9-11 Broadway, Ultimo New South Wales Australia 2007
Christmas Day Picnic Lunches across Australia
Details on request
Sue Ellson interviewed by Tiger Webb
24 Dec 2013
ABC Radio Melbourne 774AM, 120 Southbank Blvd, Southbank, Victoria, Australia 3006
Christmas Day Picnic Lunches across Australia
Details on request
Sue Ellson interviewed by George McEncroe
15 Mar 2013
Southern FM 88.3FM 2 Parliament Street, Brighton Victoria Australia 3186
Newcomers in Australia
https://www.youtube.com/watch?v=SB3S65-c8XI&t=12s
Sue Ellson interviewed by Jacquie Wise
00:23:12
24 Dec 2011
ABC Radio Brisbane 612AM 114 Grey Street South Brisbane Queensland Australia 4101
Christmas Day Picnic Lunch
Details on request
Sue Ellson interviewed by Pat Hession
20 Dec 2011
ABC Radio Melbourne 774AM, 120 Southbank Blvd, Southbank, Victoria, Australia 3006
Christmas Day Picnic Lunch
Details on request
Sue Ellson interviewed by Matt Parkinson
29 Dec 2010
Summer Wax Program on RRR 102.7FM 221 Nicholson Street Brunswick East Victoria Australia 3057
Newcomers Network Melbourne
Sue Ellson interviewed by Glen Morrow
25 Dec 2010
Early Morning Radio 2NNR 738AM ABC National AM Radio North Coast
Christmas Orphans Lunch
Details on request
Sue Ellson interviewed by Fiona Wyllie
24 Dec 2010
ABC Radio Melbourne 774AM, 120 Southbank Blvd, Southbank, Victoria, Australia 3006
Christmas Orphans Lunch
Details on request
Sue Ellson interviewed by Matt Parkinson
25 Dec 2008
3AW 693 Radio Melbourne – 1
Media House, Level 7, 655 Collins Street, Docklands, VIC 3008 Australia
Christmas Day Picnic Lunch
Sue Ellson interviewed by Mike Brady
09 Nov 2008
6PR 882AM, Level 1, 169 Hay Street, East Perth Western Australia 6004
Welcome to Perth Events
Sue Ellson interviewed by Tod Johnston
24 Oct 2008
The Hack Program on JJJ 105.7FM 120 Southbank Boulevard Melbourne Victoria Australia 3006
Top five things not to do when you move to a country town
Sue Ellson interviewed by Luke Williams for Kate O'Toole
00:30:03
22 Feb 2008
ABC Radio Brisbane 612AM 114 Grey Street South Brisbane Queensland Australia 4101
Making newcomers feel welcome in Brisbane
Sue Ellson interviewed by Madonna King on the Morning Program
25 Dec 2007
National Broadcast ABC Radio Brisbane 612AM 114 Grey Street South Brisbane Queensland Australia 4101
Christmas Day can be lonely for newcomers
Sue Ellson interviewed by David Illise
29 Oct 2007
Parent Rescue Program SBS Radio Melbourne 93.1FM 1224AM Level 2, Alfred Deakin Building, Federation Square, Melbourne Victoria Australia 3000
Migrant Family Parenting
Sue Ellson interviewed by Gordana Gamboz
24 Feb 2006
Expats Radio Internet Radio Station, United Kingdom
Expats in Australia
Sue Ellson interviewed by Peter Richards
14 Aug 2003
Serbian Program SBS Radio 2 Melbourne 93.1FM 1224AM Level 2, Alfred Deakin Building, Federation Square, Melbourne Victoria Australia 3000
The Story of Newcomers Network
Sue Ellson interviewed by Gordana Gamboz
10 Jul 2002
Afternoon Program ABC Radio Melbourne 774AM, 120 Southbank Blvd, Southbank, Victoria, Australia 3006
Making friends in Melbourne
Sue Ellson interviewed by Derek Guille
20 Feb 2001
Evening Program ABC Radio Melbourne 774AM, 120 Southbank Blvd, Southbank, Victoria, Australia 3006
Moving to Melbourne Research Findings
Sue Ellson interviewed by Peter Clarke with Nicci Baker and Brian Crawford
26 Jun 2000
Morning Program ABC Radio Melbourne 774AM, 120 Southbank Blvd, Southbank, Victoria, Australia 3006
Newcomers Research Project
Sue Ellson interviewed by Jon Faine