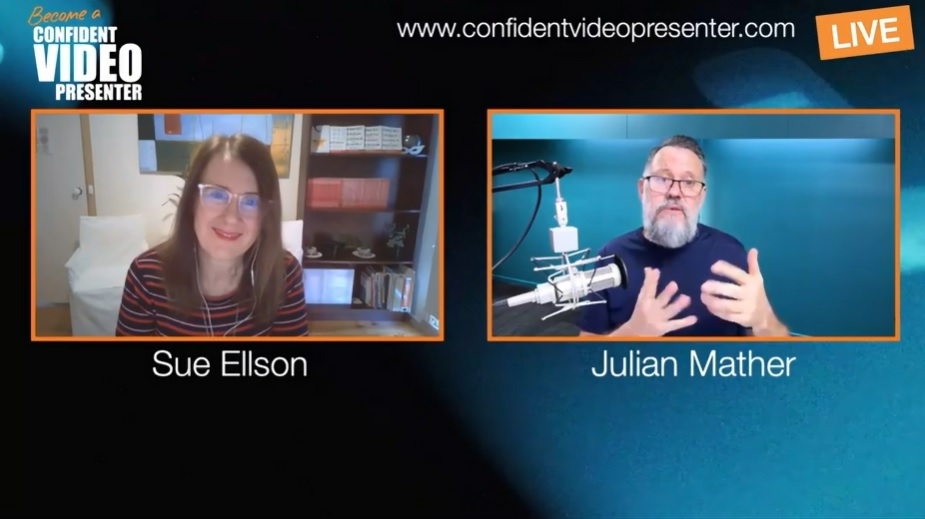 With Sue Ellson - Independent LinkedIn Specialist Author, Educator, Practitioner, Consultant
I have been a podcast guest speaker on a variety of podcasts from around the world and happily share the recording links through my online channels.
You may also like to see a list of my Radio Appearances, Presentations, Training, Videos and audio recordings of my poems on the Poems Podcast page.
I welcome enquiries from podcast, audio show and radio producers and hosts for future interviews – podcast speaking information below.
For copyright reasons, I cannot republish broadcasts here (but I do include the links) and I am happy to let you listen to a recording if I have one and there is no link.
This is a link to the Sue Ellson Podcasts Playlist on YouTube.
Sue Ellson Appearances on Podcasts
Would you like me to appear on your podcast?
Quick tip: Pronounce my name as "Sue Ell-son" (no letter 'i' in the middle) and my gender pronouns are she/her.
I am based in Melbourne, Victoria, Australia but am happy to be interviewed in local times between 7am and 10pm. 
The tips and information I share are designed to be useful and practical.
Topics
My most popular topics are:
LinkedIn and Social Media Strategy
Careers and Business
Hyper Local Marketing
Gigsters and the Gig Economy
Building an online presence (SERPs and CHERPs)
Newcomers, Expatriates, Repatriates
Writing, Non-Fiction Books, Poetry, Author Profiles
Promotion and Exchange
 When I appear on a podcast, here is how I support the podcast program:
create a permanent search engine and chat experience optimised page on my website with all the podcast details and links to the podcast, your website and relevant details (see the links below for past appearances)
create a social media post that is shared on my Facebook Page, Google Business Location, LinkedIn Profile, LinkedIn Page, Twitter
if it is published on YouTube, I also add it to my Sue Ellson Videos on YouTube Playlist and my Sue Ellson Podcasts Playlist
share the details in my monthly newsletter on my website, LinkedIn Profile, LinkedIn Page and email distribution list (view the most recent newsletter to see the number of subscribers for each channel)
offer a relevant giveaway, links, resources, opportunity etc for your audience or details for your Show Notes
connect with you on LinkedIn and engage with any of your social media posts where I am @mentioned
Background Details
You can find my photo, various length biographies, personal story and background on the about page of my website
You can learn more about my books here 
My social media links are listed on my contact page and at the bottom of this page
I host a free LinkedIn Insights webinar on the second Wednesday of the month – recordings and upcoming topics here
If you have a specific topic or area you would like me to address, please let me know and I will ensure I find relevant facts, statistics and details to support our conversation and provide extra value to your audience / listeners
If you need help with interview questions, I can provide some related to your audience / listeners or the podcast topic
I am happy to be recorded on audio (I use a Blue Yeti microphone) and/or video 
I can be pre-recorded or appear live – see my live television appearances videos here
My answers to questions are always designed to be solution-focused
I am respectful of all people from all backgrounds and am sensitive to triggers and trauma
I speak clearly and people who have English as a second language have told me that they find it easy to understand me
My mantra is 'friendly and professional' and I like to 'cut to the chase'
I like to educate, not sell – I actually answer questions and share relevant stories or case studies!
You can hear what other people have said about me via the Sue Ellson Reviews page of my website
Podcasts -Past Appearances with Sue Ellson