When I first joined the online world in 2001, I had a lot to learn. I went to an 'expert' and what I asked for and what they delivered were two completely different things. So began the online boot-strap approach of constant self-education, experimentation and testing that I have continued ever since.
I have made plenty of mistakes working things out so you don't have to! To survive without a real job since 1994 means I have got a lot right and I love the variety and challenge!
As an educator, everything I do is designed to build on what you already know – whether you are a beginner or very knowledgeable. I have also done everything I suggest so I have had to fix all the bugs and I will admit, swear at my screen!
I work with my clients, students and the media to inform, educate and transform lives with specialist, current and practical knowledge, experience and insights in the areas of LinkedIn, careers, business, marketing, social media and WordPress websites.
I use technology to help you appear in search results in search engines, Google, Bing and social media so that you can attract opportunities aligned with your values, purpose, goals and objectives without paying for advertising and by creating digital assets that are suitable for your target audience – for your career, business or enterprise.
I help you understand what you are doing and why – so we can choose the best of the best and focus on implementing what will work now and in the future.
I provide an extensive amount of information that can be freely accessed anytime and anywhere so please enjoy browsing around this website and follow me on social media.
If you would like to save time and work smarter, simply book an appointment and let's get started!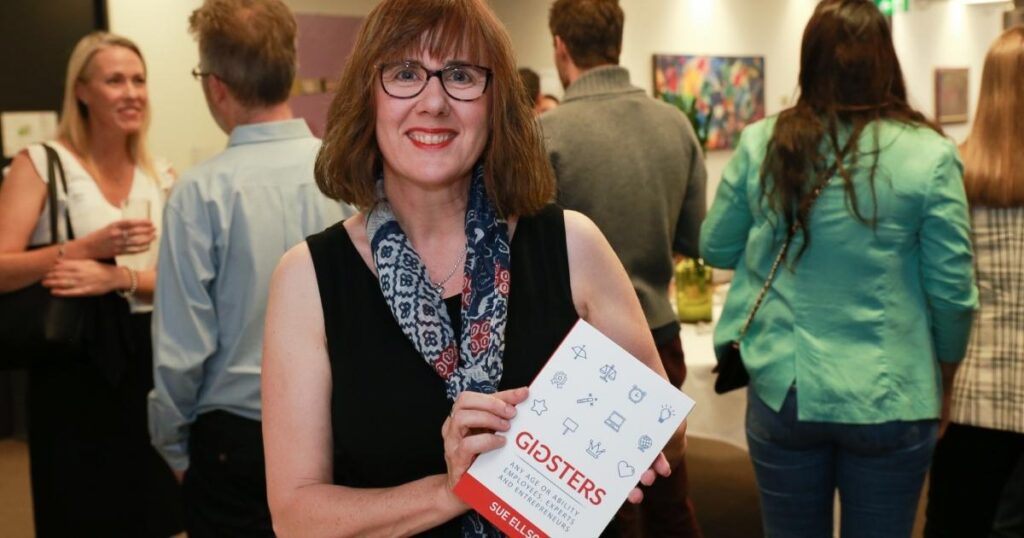 Sue Ellson BBus GK MPC PCDAA ASA WV SPN MEdPlus
Independent LinkedIn Specialist, Author, Educator, Career Development Practitioner, Consultant, Founder, Gigster, Trainer, Poet
Originally from Adelaide in South Australia and now living in Melbourne, Victoria, Australia, my full time 11 year corporate career started in banking just six days after my last secondary school exam. I haven't had a 'real job' since that ended in 1994.
As a life-long learner by choice, I completed part-time university studies, entirely by correspondence in 2000 and have been attending up to four in person and online events per week ever since.
My extensive analogue and digital knowledge, skills and networks have been developed through values-aligned professional, pro bono and voluntary work.
I am the Founder of two social enterprises, Newcomers Network (2001 – now) and Camberwell Network (2012 – 2022).
I joined LinkedIn in 2003 (member number 77,832). I started consulting and training on LinkedIn in 2008. Since 2016, I have written and published five non-fiction books and my next two will be poetry books.
I have been featured on a 2022 list of LinkedIn Experts and have provided professional services to a range of local and international clients.
I am regularly quoted in the media on the topics of LinkedIn, careers,  gigsters, business, social media, marketing, networking and being a newcomer.
As a gigster, I use technology to attract aligned gigs and I won't be stopping anytime soon. I am always looking for one new thing to do every month! 
After hours, I enjoy catching up with family and friends, going for long walks and five rhythms dancing.
10 Ways to Improve your LinkedIn Events
Wednesday 13 December 2023 12pm - 12:30pm UTC+11
Solutions Focused in Melbourne
LinkedIn for me and my career or business Workshop
Saturday 16 December 2023 - 9:30am - 1:30pm AEDT UTC+11
Four participants, four hours, live and in person in Canterbury in Melbourne with me, Sue Ellson – investment only $195 and includes a paperback copy of 'LinkedIn for me and my career or business' book that was launched in 2023. Register now via Eventbrite https://linkedinforme.eventbrite.com.au
This journey started in September 2022
with Channel 9 interviewing me as a
 Career and Workplace Subject Matter Expert in Melbourne
on national Australian television!
I had the pleasure of connecting with Sue Ellson through a referral from Courtney D'andrea, and I couldn't have been more impressed with her expertise and insights into the world of LinkedIn. Sue's responsiveness and engagement during our conversation were truly exceptional. In just one hour, Sue provided me with invaluable suggestions and advice that have significantly enhanced my understanding of the LinkedIn platform and its algorithm. Her recommendations were spot on, and I can already see the positive impact they've had on my LinkedIn presence. I wholeheartedly recommend Sue Ellson to anyone seeking to improve their LinkedIn strategy and overall effectiveness on the platform. Her knowledge and guidance are invaluable, and I'm grateful for the opportunity to have learned from her. Thank you, Sue, for your exceptional expertise!
To a baby boomer that's been asleep for 20 years, the term 'gigster' might sound like a cross between gangster and hipster. But no blood relationship running there. Sue Ellson's book Gigsters is actually a user friendly ride through the workplace and life choices we have now like never before. This book takes the daunting out of digital and provides some helpful advice to navigating our way and careers in the modern world, with a full head of steam. Entrepreneurship is now far more accessible to all. Read Sue's book to find out where, why and how.
Sue conducted a workshop at Deakin University for the MBA(1) students on the art of networking (online and offline). She was very informative and well-organised. Her content was also very educating and I am glad to learn ways I can improve my LinkedIn profile and make it more attractive and provide information that really matters to the recruiters. Thank you Sue for taking the time to educate us. Looking forward to reading your books!
I was fortunate to attend Sue Ellson's excellent Social Media Strategy for Business course at the Centre for Adult Education CAE in Melbourne. The course was very well paced and delivered with enthusiasm and passion. As an experienced teacher I very much appreciated Sue's direct approach and the extraordinary amount of research that underpins the information covered in this course. Sue's notes are right up to date and are extremely extensive. Sue kept the information interesting by constantly framing it in a way that was relevant to the needs of individual participants. I'd recommend this course to anyone wanting to begin to develop a social media strategy for their business and I'm very much hoping to be able to attend more courses conducted by Sue in the near future.
As a marketer it's important to be on top of the latest trends and how to best utilise them for your business. Very grateful to have completed the Social Media Strategy course at the Australian Institute of Management with Sue Ellson, thanks to Aussie. Highly recommend for anyone wanting to improve their digital marketing skills.
I would like to thank and recommend Sue Ellson for her exceptional and fantastic work. She is passionate about what she does and has huge knowledge of the industry. I contacted and met Sue to focus on finding a new role in my area of expertise. I am an industrial engineer with experience in my country (Brazil), and I wanted to come back to work in the engineering industry here in Melbourne after being in the hospitality and finance industry for three years (while completing my studies). Sue gave me valuable LinkedIn and industry insights and extra resources to start my journey to find my desired role. After our two hour meeting I was full of information, new LinkedIn profile and homework to do. I followed Sue's advice and modified my CV to reflect these changes. After three months I can now say I was successful in my applications and I found the job I wanted as a Project Engineer in the paper industry. I really thank you Sue for all your help and support!!
Sue Ellson is a member of
Information, Education, Poetry