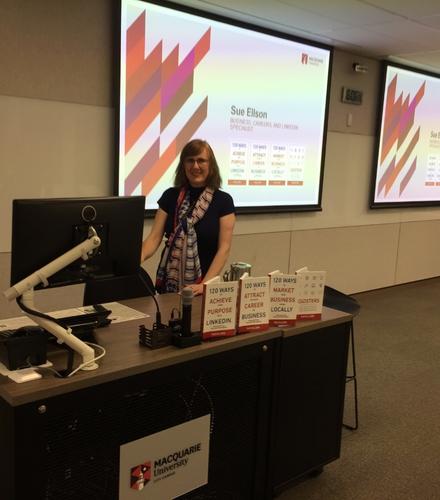 Sue Ellson Presentations in 2023
Details here include
Most Common Topics
Presentations
Training
Seminars
Workshops
Lectures
Guest Speaking
Facilitating
Forums
Discussions
Conferences
Events
Festivals
I have prepared bespoke presentations for a range of audiences including schools, universities, vocational training providers, enterprises, professional associations, government, not-for-profits, clubs, the public and more.
You are invited to contact me directly if you would like me to provide a presentation for you.
I have prepared prepared presentations for a wide range of topics aligned with my consulting services, including but not limited to:
LinkedIn (for your career or enterprise)
careers (helping you choose and find the best options), employment, recruitment
business strategy
hyper local marketing and marketing strategy
social media strategy (including Google Business)
basic website design (WordPress)
search engine optimisation (SEO)
networking online and in person
newcomers, expatriates, repatriates, skilled migrants, settlement
or any other relevant topic
Sue Ellson Presentations in 2023
The following is a list of the public guest speaking and training presentations I have been booked for, made, facilitated or been interviewed for during 2023 (it does not include details of all of the private sessions run for individual clients or enterprises).
Some of these presentations have PowerPoint Slides, Word Documents and/or Audio and/or Video Files available or they may be supplied on request. I tailor every presentation for the individual audience and I update the course material before every session.
Pro Bono Voluntary* presentations are indicated with a star *. CAE courses and courses run multiple times have a number after them for the number of times that the course has run. Ticket prices to individual events are also provided.
These are all based on Melbourne, Australia times Australian Eastern Daylight Time UTC+11 between 1 January 2023 and 2 April 2023 and 1 October 2023 and 31 December 2023 and Australian Eastern Standard Time UTC+10 between 2 April 2023 and 1 October 2023. Daylight Saving Time begins at 2am on the first Sunday in October, when clocks are put forward one hour (UTC+11). It ends at 2am (which is 3am Daylight Saving Time) on the first Sunday in April, when clocks are put back one hour (UTC+10).
11 January 2023
LinkedIn for Medical, Health and Nursing Professionals *
1 session x 1 hour 12:00pm – 1:00pm
Slides and recording https://sueellson.com/blog/linkedin-for-medical-health-and-nursing-professionals
23 January 2023
'LinkedIn for me and my career or business' Print Book Launch *
1 session x 1 hour 12:00pm – 1:00pm
Slides and recording https://sueellson.com/blog/linkedin-for-me-and-my-career-or-business-print-book-launch
8 February 2023
LinkedIn for Recruiters, Headhunters and Executive Search Professionals *
1 session x 1 hour 12:00pm – 1:00pm
Registration, slides and recording https://sueellson.com/blog/linkedin-for-recruiters-headhunters-and-executive-search-professionals
15 February 2023
Be My LinkedIn Valentine *
With Kenneth Lang in New York on Valentine's Day
1 session x 1 hour 7:00am – 8:00am
Registration, slides and recording https://sueellson.com/blog/be-my-linkedin-valentine-with-kenneth-lang
1 March 2023
How to get the website you need
1 session x 2 hours 6:30pm – 8:30pm
https://www.boroondara.vic.gov.au/events/how-get-website-you-need-face-face-workshop
City of Boroondara, 8 Inglesby Road, Camberwell, Victoria, Australia, 3124
7 March 2023
LinkedIn Live
How A LinkedIn Specialist Went To The World Via Video *
1 session x 1 hour 10am – 11am
https://www.linkedin.com/feed/update/urn:li:activity:7037320223972098048
https://www.youtube.com/watch?v=d_gDZSB81AY
00:35:21
Julian Mather interview with Sue Ellson
8 March 2023
LinkedIn for Social Media, Marketing and Digital Strategy Professionals *
1 session x 1 hour 12:00pm – 1:00pm
Registration, slides and recording https://sueellson.com/blog/linkedin-for-social-media-marketing-and-digital-strategy-professionals
18 March 2023
LinkedIn for me and my career or business Workshop
1 session x 4 hours 9:30am – 1:30pm $195 Canterbury, Melbourne
Register at https://linkedinforme.eventbrite.com.au
27 March 2023
Social Media Marketing (Advanced)
1 session x 1.5 hours 3:15pm – 4:45pm
https://web.archive.org/web/20230327232249/https://www.educateplus.edu.au/epevent/advancement-practitioner-training-2023/
https://www.educateplus.edu.au/professional-development/training-programs/marketing-communications/
Educate Plus Advancement Practitioner Training, Level 7, UTS Building 10, 235 Jones Street, Ultimo, Sydney, New South Wales 2007
29 March 2023
Effective Digital Engagement and Marketing in the Early Learning Sector
1 session x 6 hours 10:00am – 4:00pm
Australian Childcare Alliance ACA Victoria Training Room
Level 1, 1535 Dandenong Road, Oakleigh, Victoria, 3166 $395 / $595
Register at https://acavicmembers.memnet.com.au/Events/book-event?SelectedEventId=41
29 March 2023
Search Engine Optimisation Workshop
https://web.archive.org/web/20230328204659/https://www.boroondara.vic.gov.au/events/search-engine-optimisation-seo-workshop-face-face
City of Boroondara, 8 Inglesby Road, Camberwell, Victoria, Australia, 3124
12 April 2023
LinkedIn for Military, Defence and Emergency Services Professionals *
1 session x 1 hour 12:00pm – 1:00pm
Registration, slides and recording https://sueellson.com/blog/linkedin-for-military-defence-and-emergency-services-professionals
15 April 2023
LinkedIn for me and my career or business Workshop
1 session x 4 hours 9:30am – 1:30pm $195 Canterbury, Melbourne
Register at https://linkedinforme.eventbrite.com.au
10 May 2023
LinkedIn for Real Estate and Commercial Property Professionals *
1 session x 1 hour 12:00pm – 1:00pm
Registration, slides and recording at https://sueellson.com/blog/linkedin-for-real-estate-and-commercial-property-professionals
20 May 2023
LinkedIn for me and my career or business Workshop
1 session x 4 hours 9:30am – 1:30pm $195 Canterbury, Melbourne
Register at https://linkedinforme.eventbrite.com.au
24 May 2023
Google Maps and Bing Places
1 session x 2 hours 6:30pm – 8:30pm
Register at https://web.archive.org/web/20230522033127/https://www.boroondara.vic.gov.au/events/google-maps-and-bing-places
https://www.trybooking.com/events/landing?eid=1042937&
City of Boroondara, 8 Inglesby Road, Camberwell, Victoria, Australia, 3124
1 June 2023
International Management Consultants Day Lunch
1 session x 1.25 hours 12:15pm – 1:30pm $40
https://spectrumanalysis.com.au/blog/institute-of-management-consultants-lunch-1-june-2023
Tandoori Den 261 Camberwell Road, Camberwell, Victoria, Australia 3124
14 June 2023
10 Ways to Improve your LinkedIn Profile *
1 session x 30 minutes 12pm – 12:30pm
Registration, slides and recording at https://sueellson.com/blog/10-ways-to-improve-your-linkedin-profile/
14 June 2023
LinkedIn for High Achievers *
1 session x 1 hour 5:00pm – 6:00pm
Online for Golden Key National Honour Society Members
https://sueellson.com/blog/linkedin-for-high-achievers-for-golden-key-international-honour-society-gkihs
17 June 2023
LinkedIn for me and my career or business Workshop
1 session x 4 hours 9:30am – 1:30pm $195 Canterbury, Melbourne
Register at https://linkedinforme.eventbrite.com.au
19 June 2023
Social Media Strategy
1 session x 8 hours 9:00am – 5:00pm $925
Australian Institute of Management, Level 15, 120 Spencer Street, Melbourne, Victoria, Australia, 3000
Register at https://www.aim.com.au/digital-marketing/courses/social-media-strategy
22 June 2023
Effective Digital Engagement and Marketing in the Early Learning Sector
1 session x 6 hours 10:00am – 4:00pm
Australian Childcare Alliance ACA Victoria Training Room
Level 1, 1535 Dandenong Road, Oakleigh, Victoria, 3166 $395 / $595
https://acavicmembers.memnet.com.au/Events/book-event?SelectedEventId=39
12 July 2023
10 Ways to Improve your LinkedIn Page *
1 session x 30 minutes 12pm – 12:30pm
Registration, slides and recording at https://sueellson.com/blog/10-ways-to-improve-your-linkedin-page
14 – 16 July 2023
Melbourne Career Expo – will be attending and presenting on Saturday 15 July 2023
10:30am Top Ten Tools for Job Seekers* – CDAA Workshop Area
1:30pm Over 50 and Fabulous* – CDAA Workshop Area
2:30pm Using AI for finding work* – Main Stage
All three presentations linked at https://sueellson.com/blog/melbourne-career-expo-2023-at-melbourne-convention-and-exhibition-centre-14-16-july
22 July 2023
LinkedIn for me and my career or business Workshop
1 session x 4 hours 9:30am – 1:30pm $195 Canterbury, Melbourne
Register at https://linkedinforme.eventbrite.com.au
9 August 2023
10 Ways to Improve your LinkedIn Engagement *
1 session x 30 minutes 12pm – 12:30pm
Registration, slides and recording at https://sueellson.com/blog/10-ways-to-improve-your-linkedin-engagement
18 August 2023
Keynote Presentation – Effectively Market Your Service
Australian Childcare Alliance Early Learning Leaders Summit
1 session x 30 minutes 10:30am – 11:00am
https://www.earlylearning.events/EarlyLearningLeadersSummit
Sofitel Melbourne on Collins, 25 Collins Street, Melbourne, Victoria, Australia 3000
19 August 2023
LinkedIn for me and my career or business Workshop
1 session x 4 hours 9:30am – 1:30pm $195 Canterbury, Melbourne
Register at https://linkedinforme.eventbrite.com.au
23 August 2023
AI Tools to Market Your Business
1 session x 1.5 hours 6:30pm – 8:00pm
https://www.trybooking.com/events/landing/1089423
https://www.boroondara.vic.gov.au/events/ai-tools-market-your-business-online-workshop
Online for City of Boroondara, 8 Inglesby Road, Camberwell, Victoria, Australia, 3124
30 August 2023
Workshop: Harnessing the Power of LinkedIn as a Volunteer Manager
https://www.linkedin.com/posts/bvrc_volunteering-connect-connections-activity-7093011968764088320-dAj0
https://www.eventbrite.com.au/e/workshop-harnessing-the-power-of-linkedin-as-a-volunteer-manager-tickets-690638557517
1 session x 2 hours 9:00am – 11:00am
Boroondara Volunteer Resource Centre
Online via Zoom
7 September 2023
Effective Digital Engagement and Marketing in the Early Learning Sector
1 session x 6 hours 10:00am – 4:00pm
Australian Childcare Alliance ACA Victoria Training Room
Level 1, 1535 Dandenong Road, Oakleigh, Victoria, 3166 $395 / $595
https://acavicmembers.memnet.com.au/Events/book-event?SelectedEventId=62
13 September 2023
10 Ways to Improve your LinkedIn Posts *
1 session x 30 minutes 12pm – 12:30pm
https://sueellson.com/blog/10-ways-to-improve-your-linkedin-posts
16 September 2023
LinkedIn for me and my career or business Workshop
1 session x 4 hours 9:30am – 1:30pm $195 Canterbury, Melbourne
Register at https://linkedinforme.eventbrite.com.au
20 September 2023
Online presence: a results-driven approach – inSTEM Conference Workshop
1 sesssion x 75 minutes 11:30am – 12:45pm
https://instem.io/speakers/#sue-ellson
https://sueellson.com/blog/online-presence-a-results-driven-approach-at-instem-conference-melbourne-naarm
11 October 2023
10 Ways to Improve your LinkedIn Articles *
1 session x 30 minutes 12pm – 12:30pm
https://sueellson.com/blog/10-ways-to-improve-your-linkedin-articles
11 October 2023
Online Presence for High Achievers*
1 session x 60 minutes 5pm – 6pm
https://academy.goldenkey.org/events
Slides at https://sueellson.com/blog/online-presence-for-high-achievers-for-golden-key-international-honour-society-gkihs
21 October 2023
LinkedIn for me and my career or business Workshop
1 session x 4 hours 9:30am – 1:30pm $195 Canterbury, Melbourne
Register at https://linkedinforme.eventbrite.com.au
23 October 2023
LinkedIn Marketing Strategy
1 day 9:00am – 5:00pm
https://www.aim.com.au/digital-marketing/courses/linkedin-marketing-strategy
Australian Institute of Management, Level 15, 120 Spencer Street, Melbourne, Victoria, Australia, 3000
1 November 2023
AI Tools to Market Your Business
1 session x 1.5 hours 6:30pm – 8:00pm
https://www.boroondara.vic.gov.au/business/business-news-and-events/events-business
Online for City of Boroondara, 8 Inglesby Road, Camberwell, Victoria, Australia, 3124
8 November 2023
10 Ways to Improve your LinkedIn Newsletters *
1 session x 30 minutes 12pm – 12:30pm
https://sueellson.com/blog/10-ways-to-improve-your-linkedin-newsletters
15 November 2023
Your Google Business Profile
1 session x 2 hours 6:30pm – 8:30pm
https://www.boroondara.vic.gov.au/events/your-google-business-profile
City of Boroondara, 8 Inglesby Road, Camberwell, Victoria, Australia, 3124
25 November 2023
LinkedIn for me and my career or business Workshop
1 session x 4 hours 9:30am – 1:30pm $195 Canterbury, Melbourne
Register at https://linkedinforme.eventbrite.com.au
13 December 2023
10 Ways to Improve your LinkedIn Events *
1 session x 30 minutes 12pm – 12:30pm
https://sueellson.com/blog/10-ways-to-improve-your-linkedin-events
16 December 2023
LinkedIn for me and my career or business Workshop
1 session x 4 hours 9:30am – 1:30pm $195 Canterbury, Melbourne
Register at https://linkedinforme.eventbrite.com.au