Re-Graduation Reclaiming My Name
By Sue Ellson (Photo courtesy of Georges France Photography)
Today, 3 July 2023, I received some amazing news.
Let me tell you why.
When I finished my last secondary school exam at Henley High School in Adelaide, I only had six days to myself before my full-time career at Westpac Banking Corporation started on 6 December 1982. I was selected as a career recruit and a condition of that entry path was that I study part-time whilst working full-time and they suggested that I complete a Business Certificate in Banking through Adelaide College of TAFE (now TAFE SA).
By July 1985, I had successfully completed eight subjects, but I was not enjoying it. I told the bank I was going to leave the course and ironically my career took off – they offered me a promotion soon after. In December 1985, I was married at the tender age of 20.
By now I had the study bug. I didn't like the banking course but I chose to continue studying at TAFE and I completed some personal interest courses before I decided to put on my big girl pants and make the big leap to university.
At the time, I was talking about Westpac's Graduate Program at various universities across Adelaide and it seemed strange to be at a university and hosting lectures without a university qualification!
However, I was now a mature-age student (over 26 years old) which meant that I had to sit an entrance examination before I could enrol in a course. I sat the exam. I passed.
So to finalise my degree course selection, I shopped around. A lot. This was pre-internet days. It took quite a bit of work. I was determined not to end up in another course I did not like.
I decided on a Bachelor of Business in Administrative Management through the University of South Australia, seeing it as a 'baby MBA' as it included the ability to select a wide range of subjects and I didn't have to go back to a university campus and attend lectures, I could do it all by correspondence (this was also before fax machines were in regular use and emails were not a thing either – ironically, nowadays I do nearly everything online at home).
The university study began in 1993. Part-time by correspondence. Twelve months later, I moved interstate to Melbourne, and then found out I was pregnant and had two children and yet somehow I managed to not only complete the course, I ended up on the Dean's Merit List and the Vice Chancellor's Merit List and earned lifetime membership of the Golden Key International Honour Society as I was in the top 15% of undergraduate students.
My final subject, a research project, led me to creating my first social enterprise NewcomersNetwork.com and the life I live today.
When you study by correspondence, you eagerly await the return of your assignments, your grades and your examination results. So the 'joy' comes on a regular basis. When I completed the course, I was invited back to Adelaide for the graduation ceremony, but to be perfectly honest, I didn't really want to go.
However, my family were very excited as I was the first person in my family to earn a Bachelor Degree, so I went.
My paternal grandfather travelled from Kangaroo Island to attend the ceremony along with my parents and maternal grandmother. After the ceremony, we went out for dinner with my sister and brother-in-law from Adelaide and my brother and sister-in-law who came from Sydney – it turned out to be a really lovely day.
Despite all of this, I never put my graduation certificate on display.
Sadly, in early 2005, my 19 year marriage ended and I reverted to my maiden name.
But I didn't ask for a new graduation certificate.
Sure, I changed my name everywhere, including the university.
But I didn't ask for a new graduation certificate.
In 2015, I reconnected with the University of South Australia and started providing informative workshops based on my area of expertise, mostly around LinkedIn and careers or business and a few years later, started attending alumni events hosted in Melbourne by the University of South Australia.
It all ramped up when I decided to voluntarily consult with the university about how they could improve their digital and LinkedIn presence and also support their online activity.
But I didn't ask for a new graduation certificate.
At the most recent alumni event in Melbourne this year, we were reminded that the University of South Australia could be part of a university of the future with the University of Adelaide, the new 'Adelaide University.'
But I still didn't ask for a new graduation certificate.
On Friday 30 June 2023, I appeared in their alumni newsletter on 'How LinkedIn can help you build relationships to achieve your goals' and shared it on social media.
Over the weekend, the 'university of the future' was formally announced – it was all over the news.
So today, 3 July 2023, I finally asked for a new graduation certificate with my birth name. 📜
They said yes.
I will be receiving a Commemorative Certificate with my birth name, Susanne Jane Ellson very soon.
This is a special offer and is largely due to my personal contribution to the university since graduating way back in 2000.
I am overjoyed.
I am grateful.
I feel blessed.
I have spent half the day crying happy tears.
For the first time since 31 August 2000, I finally feel as if I have graduated. 👩‍🎓
Whether that is from the University of South Australia or the University of Life, I am not sure.
But from the bottom of my heart and with every fibre of my being, thank you University of South Australia, in particular Jacqui Harbison and Donna Montes for making this long-held dream possible.
The moral of this story?
Just ask.
The answer could well be yes. ⭐
#reclaimingmyname #regraduation #graduation #unisa #justask #sueellson
Shared on LinkedIn Profile, LinkedIn Page, Facebook, Google, Twitter
Update on 19 July 2023
On 19 July 2023, my sister visited the University of South Australia to collect my Commemorative Certificate Parchment and took a photo (see below). Now you may recognise this type of cap that would appear at a graduation ceremony, but not for a Bachelor's Degree – but it is a cheeky nod that I liked! 👩‍🎓
On my next visit to Adelaide, I will pick it up, framed and ready to return to my office wall – with pride!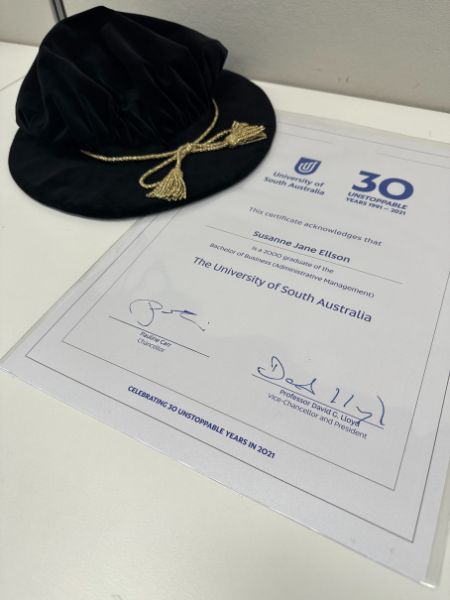 Shared update on LinkedIn Profile, LinkedIn Page, Facebook Profile, Facebook Page, Google, Twitter