Sue Ellson with Hair and Makeup Artist Jutta Schmitz at Channel Nine Melbourne Toss Box on 22 November 2022
Online at https://sueellson.com/newsletters/edition-13
Hello
Upcoming Presentation
Presentation Recording
Items Published
New LinkedIn Features
Latest Offer
Monthly Musing
1. Upcoming Presentation
14 December 2022
LinkedIn for Migrants, Expatriates and Repatriates
1 session x 45 minutes 12:00pm – 12:45pm UTC +11
https://www.linkedin.com/events/linkedinformigrants-expatriates6995523391181008896
https://linkedininsights15.eventbrite.com.au
Between 12-16 December 2022
LinkedIn for Midlife Mavens
1 session x 30 minutes available for 24 hours (part of Breakthrough Career Plateaus International Virtual Summit)
https://summit.breakthroughcareerplateaus.com/sue
More at https://sueellson.com/presentations-2022
2. Presentation Recording
LinkedIn for Sales People
https://sueellson.com/blog/linkedin-for-sales-people
More at https://sueellson.com/linkedin-insight-webinars-and-recordings
3. Items Published
Career Cushioning
https://sueellson.com/blog/career-cushioning/
The rise of 'career cushioning': Everything you need to know about the controversial new workplace trend gripping Australia
https://www.dailymail.co.uk/femail/real-life/article-11475707/What-career-cushioning-latest-workplace-trend-need-know-about.html
Boss Baby Problem
https://sueellson.com/blog/boss-baby-problem-for-younger-looking-workers-careers
https://www.youtube.com/watch?v=UVN2SsHgTVk
Scroll-Stopping Social Media Posts
https://jumpstory.com/blog/scroll-stopping-social-media-posts
https://sueellson.com/blog/scroll-stopping-social-media-posts-on-jumpstory
Pain Alert Poem
https://sueellson.com/blog/pain-alert-poem
How to Get More Followers On LinkedIn
https://sueellson.com/blog/how-to-get-more-followers-on-your-linkedin-profile-or-page
https://www.youtube.com/watch?v=jASYlCJEFRo
Agony Poem
https://sueellson.com/blog/agony-poem
Job washing: how employers are tricking jobseekers into roles
https://www.heraldsun.com.au/lifestyle/smart/job-washing-how-employers-are-hoodwinking-jobseekers-into-roles/news-story/55d18ba47bce36cd262edfd68ab26c3c
Careers, Business, Social Media, Marketing and Networking
https://www.thecorporateescapists.com/content-library/sue-ellson-careers-business-social-media-marketing-and-networking
More at https://sueellson.com/publications
4. New LinkedIn Features
I am busy doing the final edit of my fifth book 'LinkedIn for me and my career or business' and I have found so many LinkedIn features recently.
a. Page Lead Generation Form – if you edit your LinkedIn Page (not Profile), you will see this option in the Leads section called "Lead gen form' – well worth completing.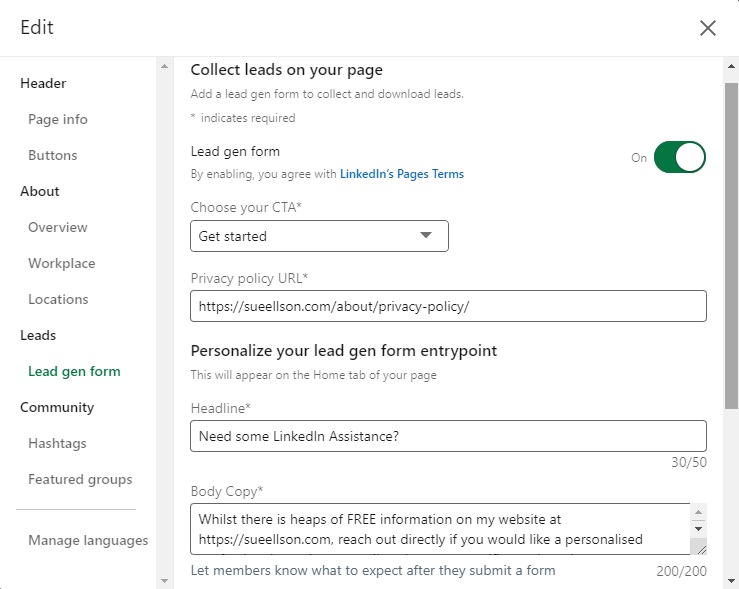 b. Creator Tools – if you have Creator Mode turned on in the Resources section of your main LinkedIn Profile, you can now see the options you have available including LinkedIn Live (Video event using a third party tool), Audio Event, Newsletters and Follow on LinkedIn. The Follow choice allows you to create a personalised one click LinkedIn Profile Follow button or link.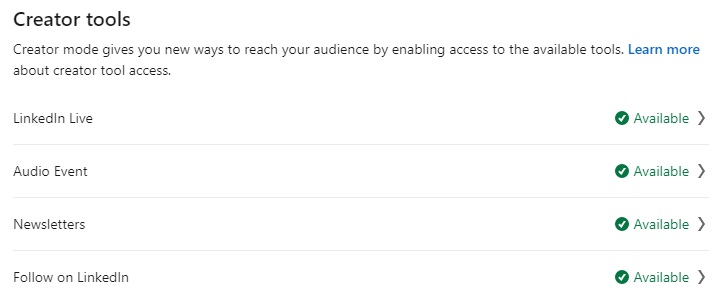 c. About this Profile – is available via the More button on a LinkedIn Profile and shows the year of joining and other information about a person on LinkedIn.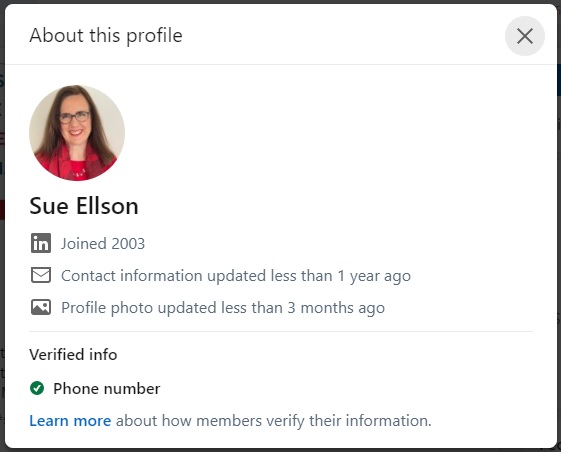 d. Demonstrate transferable skills – more quizzes are now available to have your transferable skills assessed. Access the list at https://www.linkedin.com/skills-demonstration/skills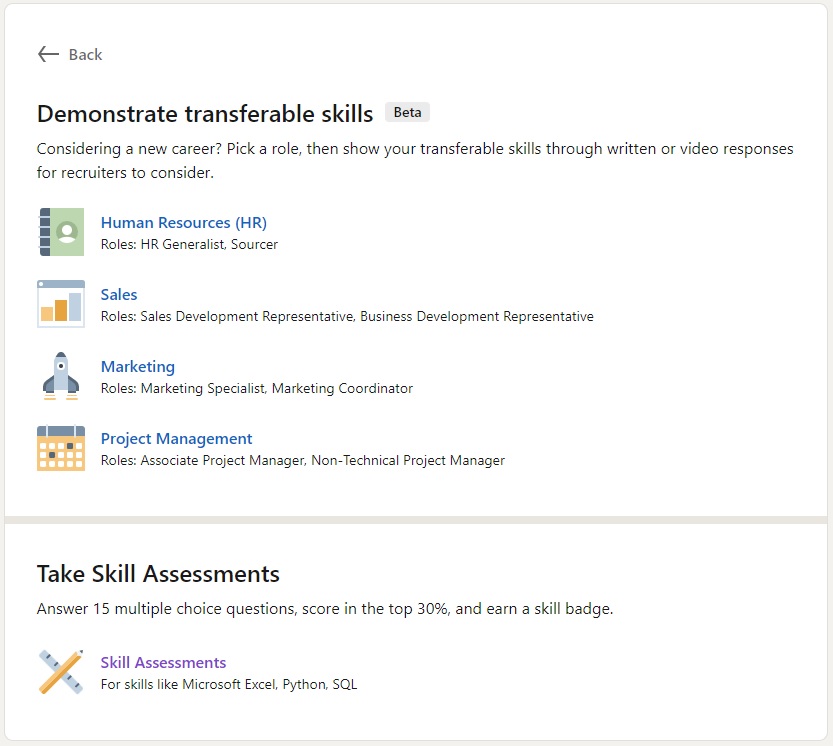 e. Video introduction prompts – in the LinkedIn App on your mobile device, you can add a video behind your Profile Picture and when you do, LinkedIn offers you some suggestions on what you may like to share in your 30 seconds.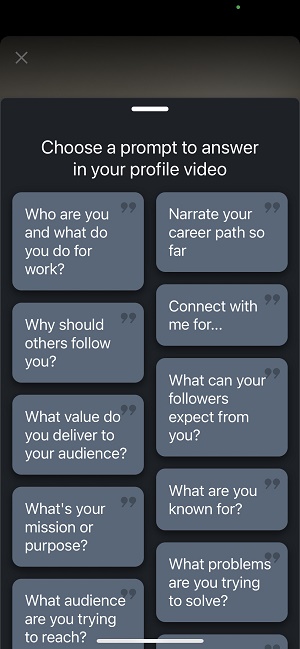 f. Content Reaction change – instead of 'Share' your content (Post or Article), you can now 'Repost' instead and either Share with your thoughts or just Repost instantly.

g. Page Commitments – on a LinkedIn Company or School Page, if you choose 'Edit Page' you will see a new option under About called 'Commitments.' This allows you to discuss how your organisation is committed to Career growth and learning; Diversity, equity and inclusion (DEI); Environmental sustainability; Social impact; and Work-life balance. Early adopters may benefit from completing this section now.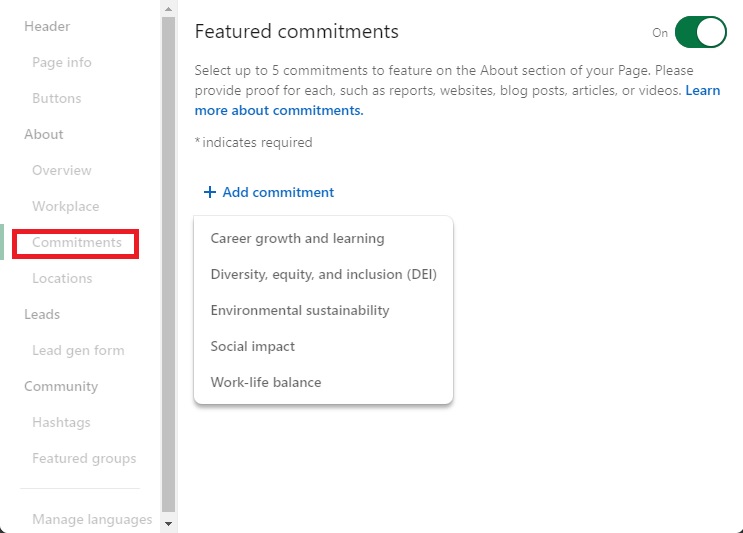 h. Company or School Page Notification Bell – is now available and there are three options. See All new posts (fully grey), Top posts (grey outline – default) or No new posts (grey strikethrough).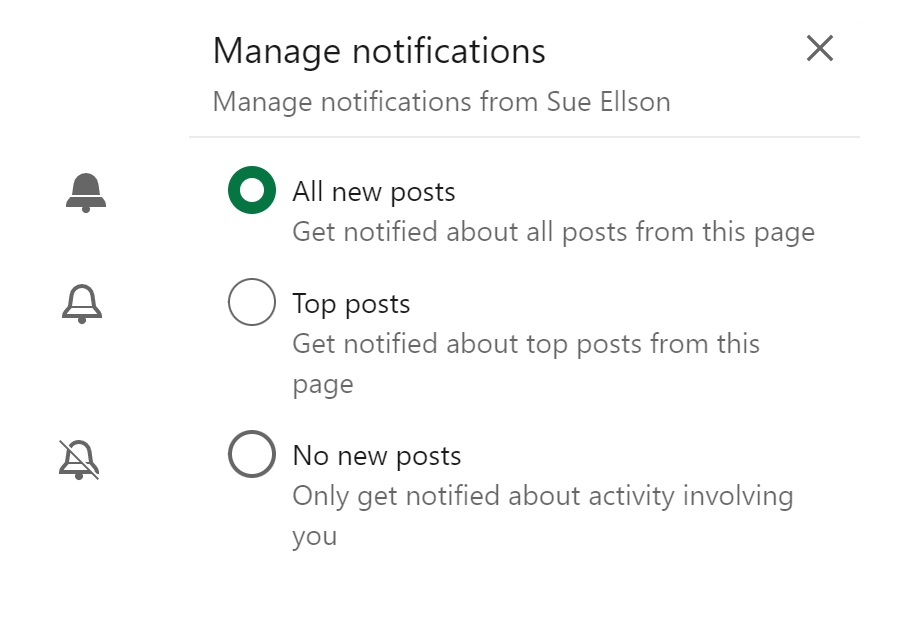 i. Personal Profile Notification Bell – do you have some VIP connections on LinkedIn and would you like to see their content in your Newsfeed or your Notifications? Then click on the Notification Bell to see most of their Posts (fully grey). Click on my bell at https://www.linkedin.com/in/sueellson/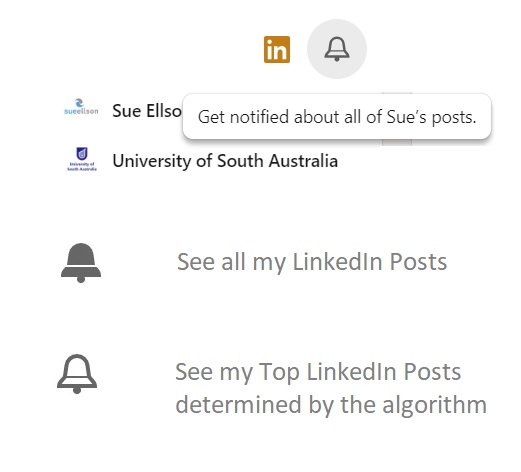 5. Latest Offer
There is a page on my website providing resources you are welcome to access for $0 https://sueellson.com/latest-offer.
Help you and me by subscribing to my YouTube channel (currently 120 subscribers and counting) https://www.youtube.com/c/Sueellson2
6. Monthly Musing
Rest. I recently read that we don't need more resilience, we need more time to rest and relax so we can restore and recover. Seems like an impossible task as we race towards the end of the year, but I sincerely hope you can carve out a few moments each and every day for some good quality rest.
Enjoy today and cheers for now, Sue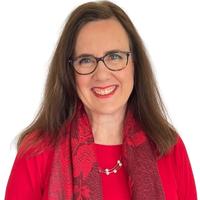 —
Sue Ellson BBus MPC CDAA ASA WV SPN
Independent LinkedIn Specialist, Educator, Practitioner, Author
See LinkedIn version here https://www.linkedin.com/pulse/sue-ellson-shares-newsletter-edition-13-sue-ellson
Subscribe to this email newsletter here http://eepurl.com/hjxQkP
(currently 1,866 Subscribers)
Subscribe to the LinkedIn newsletter here https://www.linkedin.com/newsletters/sue-ellson-shares-6869552819440099328
(currently 4,717 Subscribers)
See past editions here https://sueellson.com/newsletters or here https://us7.campaign-archive.com/home/?u=963753a463dbfd61053ef44c6&id=0facf8502c
Engage with this content on LinkedIn Profile, LinkedIn Page, Facebook, Google and Twitter and share with your network.
You can follow me on social media by scanning this QR code or via the icon links below.
Follow on social media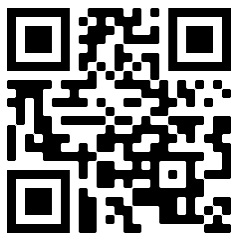 Scan, Press or Click – Links to Sue Ellson Website Contact Page with links to Follow on social media