Gig Economy Growth
Date: 14 April 2023
Media: Channel 9's Today Extra Show, National Australian Television
Story: Gig Economy Growth
Hosts: David Campbell and Sylvia Jeffreys
Guest: Sue Ellson
I have been writing about the Gig Economy for quite a while now and various articles and presentations are linked below. However, on 14 April 2023, I appeared on Channel 9's Today Extra show to talk about this topic live on national television. Here is the recording:
TRANSCRIPT
Welcome back today Coles announced that 500 of its stores will be added to Uber Eats in a major expansion but also this week we learned that the grocery delivery service Milk Run decided to close their business meaning 400 workers lost their jobs
Shifting Sands right so is the gig economy reliable for employees and small businesses well here to break it all down for us is career expert Sue Ellson live from Melbourne good morning Sue thanks for joining us
Hi
How sustainable is this industry?
Yeah it's a good question because back in 2021 British company Deliveroo ended up in front of the Fair Work Commission in a case that was later overturned but what it meant was the government said that the Fair Work Commission can actually enforce orders for minimum pay and conditions for anybody doing employee-like work so from on the behalf of the employees yes they could be protected but the companies themselves unless they're making a profit they're going to find it difficult
So how can you explain how this gig economy works and is it actually worthwhile?
Look it really depends a lot of people assume it's on demand type work where you work on a gig to gig basis and it can work for some people unfortunately for some others it is it's a it's a loss making exercise because you've got to bring your own stuff in and use your own resources so it depends on how you use it some of these platforms are precursors to others and some of those 400 people who lost their job at Milkrun could obviously come across to Uber now and consider working for them so as you said before very much shifting sands and who knows how this is all going to turn out but the companies are there to make a profit
So for those who still want to engage in this industry what protections are in place for gig workers?
Well if they are classified as employees then they are entitled to Workers Compensation but if they're in an independent contractor using their own Australian Business Number then they're going to have to get their own form of insurance so that's something to watch out for now the other concern is that if you're getting all of your income from one of these contracts the Australian Government will identify that will cancel your ABN so it might sound harsh but it's kind of a way to protect you as well
There are also reports that gig workers are missing out on about 400 million dollars per year in retirement savings so can we see gig workers receiving super?
Well essentially if they're doing that employee-based work then yes they would be classified as an employee and they should be entitled to that superannuation but as a gig worker myself I actually believe it's important to have at least three months of savings in the background so that if you lose any gigs that you can keep going yourself but I think it's also incumbent upon you to make an effort to save for your own retirement so every time you get paid see if you can put the usual 10 11 into super yourself
You know I think Milk Run just couldn't compete in the end with the big players in this area where do you see this industry that the gig economy going long term
Look I think with the rate of change of technology part-time work is going to definitely be the way of the future and one of the best gig stories I remember hearing was somebody who worked in a call centre and everybody knew that this person was really good at solving I.T problems so they just kept getting all referrals from everybody in the office and then they eventually had their own business and started off in I.T support so I see some of these platforms as being precursors to people being able to use the technology to attract aligned gigs so if you went on a different type of platform and tried to be a house cleaner the cheapest one in the local area that's not going to lead to ongoing sustainable pay but if it got you a gig into a house cleaning and then you set up your own domestic service and built your database out and got lots of referrals then it could be sort of the way into the market and that could be very helpful so think of it more as a way to lead to better opportunities going forward
Good advice there Sue thanks so much for your time appreciate it thank you
Channel 9 social media shares on Facebook, Google, LinkedIn Profile, LinkedIn Page and Twitter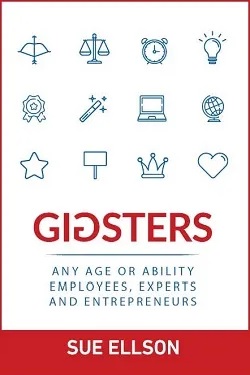 I have also written a book on the topic – Gigsters – Any Age Or Ability Employees, Experts and Entrepreneurs
Here are some additional thoughts…

What is the Gig Economy?
Most people think of it as larger companies paying individuals on a pay-by-gig on demand basis like Ride Share and Food Deliverers . But if we think more broadly, it could include anyone who operates on a gig to gig basis so it could potentially include artists, musicians and even professional contractors.
For some people, it is the only way they can earn a living and unfortunately, a lot of gig workers are exploited and work unusual hours, split shifts and need to bring their own resources or devices to carry out tasks so a lot of gig workers operate at an overall loss.
Are there any protections in place for gig workers?
Back in 2021, British company Deliveroo appeared before the Fair Work Commission in a case that was later overturned, but they left Australia in November last year citing tough economic conditions. https://www.theguardian.com/business/2022/nov/16/deliveroo-quits-australia-citing-challenging-economic-conditions
However, this case and others has prompted the government to allow the Fair Work Commission to make orders for minimum pay and conditions for employee-like forms of work.
Essentially, if most of your income is coming from one main source, you are an 'employee' and are covered by Workers' Compensation insurance, but if you are an 'independent contractor' you need to make your own insurance arrangements.
Keep in mind that your Australian Business Number will be cancelled if the government sees you sourcing most of your income from one client.
https://www.safeworkaustralia.gov.au/sites/default/files/2023-03/workers_compensation_and_the_gig_economy_fact_sheet_-_march_2023.pdf
Do you think that these companies using gig workers are sustainable?
They are like any business, they need to remain profitable and if the costs of operation are too high, they won't survive.
The challenge in relation to deliveries in Australia is that unless you have a large market share, delivering to multiple locations a long way apart without local sources of supply is going to be extremely expensive. Most businesses cannot handle that initial expense to wait for the market share to become profitable.
So if people don't want to be a gig worker, is it better to have a side hustle?
That depends on what side hustle you are choosing. Sadly, there are a lot of get-rich-quick-schemes flooding social media. Please do not waste your time on click this, see the numbers and get that.
In my view, the best form of side hustle involves you doing something you already know and love to do in exchange for money on a part time basis and growing it organically over time.
The best way to grow a business is still by word of mouth and I would say you also need a LinkedIn Profile so you can build your own database of relationships and ask for referrals.
You will also need an ABN and you will need to declare all of your income in your tax return and if you have over $75,000 in turnover in a year, pay GST.
Side Hustle Options
avoid click this schemes
build on what you already know
do it part time and grow by word of mouth
build your database and ask for referrals
Is there a way to use these digital platforms to build a side hustle?
If you choose to use a digital platform to build your business, find out what people will pay for and look for local building block gigs that will help you develop ongoing relationships, even if you run at a loss to start with.
Being the cheapest house cleaner in the local area is not a way to earn a living and is a race to the bottom.
If you took on a low priced gig for a small business close by that liked your work, it could lead to more work independent of the platform in the future.
Digital Platform Options
see what people will pay for
look for local building block gigs
move the relationship offline
So do you think it would be easier to just stick to a normal job?
Well I haven't had a real job since 1994, so I am all for freelance, gig, casual and contract work, but it is not for everyone and I have a three months of expenses cash savings buffer.
But I do think it is something we need to discuss in more detail because the changes in technology are getting faster and faster and the world of work is definitely changing.
Personally, I love the variety and flexibility and I have put in strategies to cope with loneliness and commitment. If people can consider some part-time options now, they will be preparing themselves well for our uncertain future and for those at the beginning of their career, it can be a great way to get some experience.
Other articles and presentations
The Gig Economy in Australia for The Jampod Gigsters
Is the gig economy worthwhile to individuals as the industry booms during a pandemic?
Creating New Career Options In A Gig Based Economy For The National Association of Graduate Careers Advisory Services NAGCAS Conference
Gigsters Any Age Or Ability Employees Experts And Entrepreneurs National Employment Solutions Conference
The #Gigster Series – Employee Gigster Types
The #Gigster Series – Expert Gigster Types
The #Gigster Series – Entrepreneur Gigster Types
Gigsters – Any Age or Ability, Employees, Experts and Entrepreneurs
Surviving The Gig Economy — New Ways To Work
Why I Became a Gigster with Sue Ellson